Baby !!
Sunday, November 13, 2011 • Sunday, November 13, 2011 •
0 comments

pembaca yang comel sekalian!!
hari ni ana nak cerita kisah pasal seorang ibu dengan baby dia :)
baby! masyaAllah, semua baby comel kan :D
seorang baby yang sangat comel merangkak masuk dapur
ibu dia tak sedar tau yang baby dia dah merangkak sampai dapur rumahnya
masa kat dapur tuh kan, baby tuh jumpa lipas tengah jalan jalan
baby tuh teruja sangat bila nampak lipas tuh gerak gerak
baby tuh kejar lipas tuh sambil ketawa..
Ya Allah !! comelnya baby bila gelak, giginya 2 batang je :D
masa baby almost nak tangkap lipas tuh,
ibu baby tuh dengan terkejutnya lari dari ruang tamu and dukung baby dia
baby tuh merengek menangis sebab nak kan lipas tuh
tapi si ibu larang sebab ibu tahu
yang lipas tuh bahaya untuk baby kecil macam dia.
MasyaAllah baiknya seorang ibu
tapi berganda ganda lebih baik Tuhan ibu tuh ialah Allah!
perasan tak kita manusia nie sama macam baby tadi.
kita sentiasa sangka apa yang kita nak tuh adalah the best untuk kita
padahal Allah lebih tahu segalanya..
dalam kes nie, ana umpamakan Allah macam si ibu
ana tak bermaksud nak samakan Allah macam ibu tadi
tapi cuma perumpamaan je.. tak nak salah sangke ya :)
si ibu tahu apa yang terbaik untuk baby kecil tuh kan.. sedangkan baby tuh
tak tahu pun yang lipas boleh bahayakan dia
samalah macam Allah, Allah lebih tahu apa yang terbaik untuk kita
walau pada hakikatnya yang perkara terbaik tuh adalah perit untuk kita.
lebih sayang sekali, sesetengah baby bila dah besar
dia lupa akan pengorbanan ibunya yang bagi kasih sayang dan lindungi dia
dari kecil
macam kita, kita selalu lupakan Allah
padahal Allah sentiasa lindungi kita, kita mengeluh dengan takdir Allah
seteruk teruk nasib kita pun,
allhamdulilh sampai saat Allah masih izinkan bernafaskan
jadi ingatlah Allah sentiasalah bertawakal pada Allah
dan bersyukurlah dengan segala nikmatnya.. Allhamdulilah Ya ALLAH! :)
Cinta ALLAH, Cinta Abadi ❤
•
❀ Tujuan Hidup ❀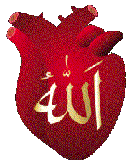 ana ❤ Allah & Rasulullah
❀ Tujuan Hidup ❀
Aku tidak menciptakan jin dan manusia melainkan agar mereka beribadah kepadaKu
Surah Az-Zaariyat : ayat 56
❀ Kotak Jerit ❀
❀ Like ! Like ! Like ! ❀
❀ Back to past ❀
❀ Credits ❀



Template : Aulia Septiya
Edited : Ulfa Juliah
Helped : Ayem, AskarrPink, Ziera
Header & Cursor : Ziera
Background : Qihah
Font : Google